Dit is een one-woman-shop. Ik bedenk het, maak het, fotografeer het, zet het op de website, verpak het en stuur het naar je op.
Als je bij mij iets besteld, is het ook door mijzelf gemaakt en ondersteun je een kleine ondernemer.
Daarom ook kan ik iets speciaal voor jou maken, in de maat, kleur en vorm die je wilt.
Dus zit jouw heuptas er niet bij, vraag het me en misschien kan ik het voor je maken.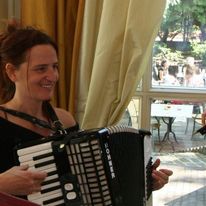 My sunny workspace is located in Berg en Dal, The Netherlands.
I was travelling for years as a juggler and musician. Some years ago, I settled down in my home country, The Netherlands. And then, at last, I had enough space, and electricity, for a sewingmachine.
I decided to open a shop on the handmade marketplace Etsy, and make and sell all the stuff that I always imagined, but I never had a room to make it.
When this was working, I also opened on Dawanda and Amazon Handmade. Then I though it was time to try to make my own website. This website is also made by me, so feedback about how to improve it, is always welcome :).
In my Etsy shop I put all my work, and I am moving it to here now.
If you see something in my Etsy shop what is not here (yet), you can always just send me a message and I can make it for you.
My shop there is Etsy.com/shop/hipsypixie
The reviews hat you see here, are collected from my other websites.
I hope that convinces you of the quality of my work and my excellent customer service.
Feedback is always welcome
Questions also.
You can follow me on Facebook
facebook.com/heuptassen
Nancy
Contactform