De maat van de heuptas neem je rondom je lichaam gemeten, op de plaats waar je de heuptas draagt. Vaak is dat net onder de taille, of op de hoogte van de riemlussen van je favoriete spijkerbroek.
Je kunt een meetlint nemen of een touw rondom je lichaam doen, en dat daarna nameten. Meet je bijvoorbeeld 85 cm, dan neem je maat 80-100 cm. Meet je 110 cm, dan neem je maat 100-140cm. Als je de beschrijving van de heuptas helemaal leest, dan staat daar altijd de maten die ik voor die heuptas gebruik.
De riemen van de heuptassen met de metalen riemgespen zijn, behalve met de ringen in de riem, ook ruim verstelbaar met een metalen schuiver. De riem zit dus altijd mooi, met de ogen in de gesp, zonder dat er een stuk over blijft hangen.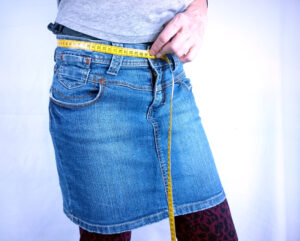 Wil je meer weten: About
Of stuur me een bericht: Contact
Voor veel heuptassen gebruik ik de maten die hieronder staan. In de beschrijving die bij elke heuptas staat, kun je lezen welke maten ik voor die tas gebruik. Twijfel je, of wil je hem net iets anders, dat kan, stuur me een bericht en ik antwoord je snel.
Heuptas S   75 – 100 cm
Heuptas M  90 – 120 cm
Heuptas L 100 – 140 cm
Heuptas XL 120 – 160 cm
Heuptas XXL 140 – 180 cm